ETI is critical to both the manufacture and serviceability of automobiles
Contributed by Bob Chabot, ManicMedia LLC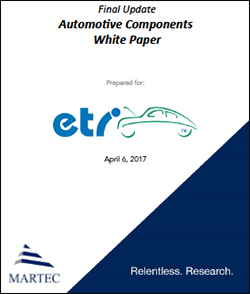 Increasing complexity of vehicles continues to impact the automotive aftermarket. In particular, those who service and repair automobiles are directly affected — many of who are customers of the tool, equipment and information suppliers that comprise the membership of the Equipment and Tool Institute (ETI). That makes awareness of, and preparation for, emerging technologies essential must-haves.
"Developing a thought-leader position on this topic is central to ETI's role as a facilitator and bridge between automakers and aftermarket service/repair," explained ETI Executive Manager Greg Potter. "ETI is positioned to work on things other people and organizations in the industry cannot. That's part of the unique value our members provide."
"Every year the ETI Marketing Committee develops a Market Research Project in an effort to promote a better understanding of the landscape of the industry and to assist our members in bringing new and improved equipment and tools to the marketplace. ETI uses this research to help all segments of the automotive industry provide aftermarket shops with better equipment and solutions.  This year ETI commissioned the Automotive Components White Paper, conducted by The Martec Group. The white paper provided valuable insights, impressed upon ETI members their value to the automotive aftermarket industry and encouraged further involvement by tool, equipment and information suppliers," said Jessie Korosec, ETI Marketing and Events Manager.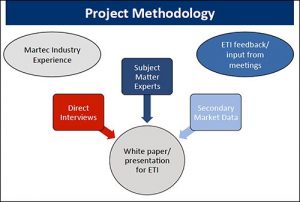 "ETI market research studies and white papers deliver valuable industry information to aftermarket tool and equipment companies and are amongst the many benefits we offer our members," shared Jessie Korosec, ETI Marketing and Events Manager. "New technologies create challenges for ETI and its members to be prepared to provide products and services which enable the aftermarket to maintain and surpass the level of service the public expects for these new vehicles. In turn, properly repaired and serviced vehicles lead to increased customer satisfaction, which translates to brand loyalty toward the vehicle manufacturer." (All images — ETI / The Martec Group)
Meaningful Direction That Can Drive Your Business Forward
"Technology is running faster than the industry," noted Ben Johnson, who presented the findings of the white paper to ToolTech 2017 attendees.  Johnson is a Past President of ETI, serves on the Marketing Committee, and is Mitchell 1's current director of Product Management.
"What if in the coming automotive era of Advanced Driver Assistance Systems (ADAS) and other complex technologies, something catastrophic happens?" he posed. "Without OEMs being diligent and thorough in helping to enable the service and repair of vehicles in the aftermarket, what would that say to consumers? Specifically, if owners can't get the vehicles serviced where they choose, how would they feel about the brand they purchased, let alone when their next purchase occurred?"
Johnson informed attendees the market research project began on January 23, 2017 and concluded with a final report on April 6, 2017. He then shared details of the white paper's methodology and focus, as well as several of the insights garnered by the marketing workgroup.
Martec's primary research for the white paper consisted of direct interviews (telephone and face-to-face) were with equipment, tool and information providers; service and repair shops; market research partners; key customers; and third party industry sources. In addition, Martec also gathered and considered extensive secondary research comprised of technical reports, patents, research data; company reports, government studies and other relevant information.
Martec then focused on identifying current and emerging technologies that had traction in the marketplace by:
Evaluating various vehicle systems/components — To better understand the long-term impact on service and repair, and specifically the tools and equipment required, it is critical to consider technological trends and take their pulse. For example, which are on the rise? Conversely, what components/technologies are in decline, are being phased out, and/or are becoming obsolete?
Analyzing the factors impacting the way vehicles will be engineered in the future — Here the white paper's considered primary systems (such as valvetrain, engine, exhaust, brakes, fuel supply, transmissions, steering and suspension, etc.), with a focus on specific impacts on scan tools, mechanical systems, shop management, equipment and other interests vital to ETI members.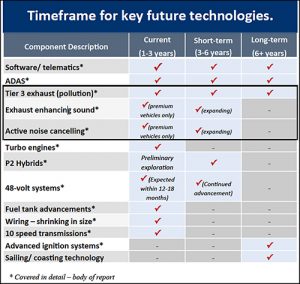 Based on research, ETI team input and industry expert insights, The Martec Group, in conjunction with the ETI workgroup, prioritized future automotive technologies by expected introduction.
Like Cause Leads to Effect, Implementation Spurs Preparation
The ETI white paper explored the future of components across automotive systems. A list of nearly 45 components was identified during research. Following discussions with ETI's workgroup, this list was pared down to 13 components deemed to be "on the rise" and most likely to impact the industry. In addition, the workgroup sorted the components by their expected implementation timeframe — current (1-3 years), short term (3-6 years) and long term (6+ years).
Of note, the 13 shortlisted components showcased several key technological themes members and the aftermarket should be cognizant of. These included safety innovations, (e.g. ADAS); fuel economy/CAFE mandates (e.g. engine downsizing, turbochargers, hybrids,10-speed transmissions, fuel tank and exhaust EVAP controls); electronic solutions (e.g. software/telematics, drivability, sound, telematics, and connected driving), and a transition toward 48-Volt electrical/electronic architectures.
"The outlook for the automotive components reported in the white paper is very promising, particularly in regards to the opportunities pertaining to safety, fuel efficiency, electronics and new technological solutions," advised Dan Bielak, Martec's senior market analyst who managed the white paper project. "It will be interesting to see how and when these new complex components and technologies impact the aftermarket."
"For example, some technologies such as ADAS have already appeared in aftermarket shops; more advanced ADAS technologies are inbound. Other innovations won't affect shops until they have been implemented on new vehicles for three or more years. For example, in the longer term, autonomous driving is arguably one of the biggest drivers, as it may well disrupt not only the aftermarket, but also transportation systems, consumers and others in significant ways."
Insights Expose Opportunities
"The primary purpose of ETI's white paper was to provide insights found nowhere else in a nice summary format," Johnson shared. "With this valuable white paper, executives can decide how their companies are impacted and take appropriate steps to be ready for the inevitable future outlined in this document." He then briefly reviewed each of the 13 component/system areas, and shared a number of insights and opportunities the members of workgroup identified. Here are a few of them/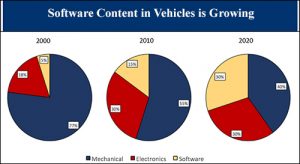 Of all of the different systems/components explored in the white paper, the workgroup believes that software and telematics could have the greatest long-term impact on the automotive aftermarket. The total value of software and electronics in automotive applications is expected to reach 60 percent of the total vehicle value by 2020, which is up from 23 percent in 2000.
 Software, Electronics and Telematics — Automakers are closing the gap with aftermarket tech firms that had established an early lead in certain critical areas, such as centerstack infotainment software (e.g. Apple CarPlay and Google's Android Auto) and cybersecurity (e.g. Argus Cybersecurity). "Just three years ago, GM had 60 engineers working on cybersecurity; today, more than 160 engineers are employed in this area alone," shared Bob Stewart, manager of aftermarket service support for General Motors.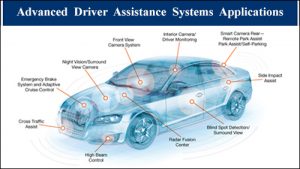 Expect ADAS to also continue advancing through 2025, transitioning into fully autonomous vehicles. To date however, the availability and completeness of OEM service information sometimes lags behind the rollout of ADAS technology.
Advanced Driver Assistance Systems (ADAS) — ADAS currently is being integrated by OEMs in premium vehicles, and is starting to be introduced into mid-level cars. The workgroup believes ADAS will be rolled out in phases, with full functionality still three to six years out. The National Highway Transportation Safety Administration (NHTSA) has incorporated the AEB system — comprised of Forward Collision Warning, Crash Imminent Braking and Dynamic Brake Support systems — into its 5-Star Safety Rating System. Automakers must include these crash avoidance technologies in order to receive the award for new vehicles.  Automakers and their suppliers need to rectify these concerns.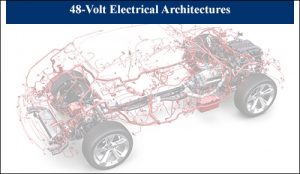 Market analysts expect 48Velectric architectures to grow rapidly across all vehicle segments over the next decade and beyond.
48Volt Electrical Systems — 48V architectures are enabling internal-combustion engines to become more efficient by providing more electrical power needed to run increased electrical content in vehicles. Examples include semi- or fully autonomous systems, electronic components, infotainment features and more. In addition OEM engineers expect the advent of 48-volt electrical systems to also enable new mild hybrids that achieve a 70 percent improvement in efficiency at only 30 percent of the cost of current hybrid technology.
"The most exciting component in the white paper, to me, is the emergence and proliferation of 48V systems and how they connect with most or all of the other advances," Bielak stated. "Over the course of Martec's secondary research, market analyst firm IHS Markit shared a couple of informative insights: (1) Expect 48V technology to make its way into one-fifth of all vehicles sold globally by 2025; and (2) More specifically, the global market for 48V mild hybrids is expected to increase ninefold between now and 2025, with a total of 14 million vehicles expected to enter the market."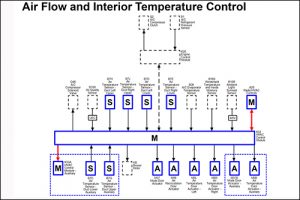 Until very recently, wiring diagrams and communication network topology schematics typically showed electronic control modules and connections. But the rapid proliferation of electronic sensors and actuators inherent to many of the technologies in the white paper is changing that. According to Bob Pattengale, Bosch's national training manager, "Some OEMs are beginning to include the relevant sensors and actuators as well (e.g. the Cadillac Temperature Control System wiring diagram above, courtesy of Bosch and GM)." Extending this practice to other vehicle systems, such as ADAS, would help technicians make more accurate diagnoses and efficient repairs."
It's No Longer "Business as Usual"
"The challenges for ETI members continue to grow as vehicles become increasingly complex and harder to service," concluded Potter. "Consequently, fostering the ongoing partnership between OEMs, tool/equipment/information providers and independent service/repair facilities is more important than ever. It is vitally important that all in the vehicle service/repair value chain understand these new and emerging technologies, as well as how they will impact the industry."
"The overriding insight from the white paper that sticks in my mind after participating in developing this white paper is the effort needed to train technicians working in dealerships and aftermarket facilities to be able to efficiently and accurately service and repair next generation vehicles. From making sure we have appropriate diagnostic and hand tools to diagnose and service these new technologies to making sure repair information is available, this is a challenge that will continue to grow as even newer technology finds its way into vehicles."
"The white paper will soon be available to ETI members wishing to view details about the findings and the components in full," Korosec advised. "An email will be sent to ETI members with instructions on how to access it."